Can we learn late tennis ? how ?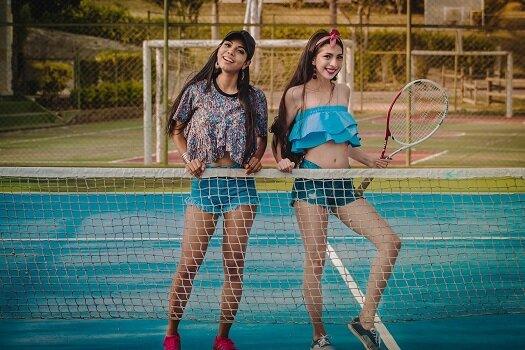 Tennis is one of the most followed and practiced sports around the world, every day there are more children who want to follow in the footsteps of great players like Rafa Nadal or Roger Federer and become the new number 1 of the ATP. But many parents doubt what is the best age to start playing tennis, either for fear of injury, to provoke bad experiences that make them not like it, etc..
But first of all, we have to explain that tennis has great benefits, both physical and psychological, very important for the personal growth of each boy or girl. Training on a regular basis improves physical condition, develops muscles, attention span, motor coordination and even promotes socialization.
As with most sports, there is no exact age to start tennis. Whether or not a child is ready for tennis lessons depends more on his or her skills, abilities and capabilities than on his or her age.
Many children at the age of 4 already show a fairly advanced motor coordination ability that allows them to start playing tennis, but it is necessary to keep in mind that their attention span is not yet well developed. At this age constant distractions turn tennis lessons into a mere game with rackets and balls.
In these classes, although they do not serve to perfect their technique, the little ones will become familiar with the material and with the basic ideas of the game. It is best for children to use rackets, nets and mini tennis balls that are adapted to their physical condition. In our blog we talked about tennis equipment for children, including foam balls and smaller nets.
Most experts say that the best age to start tennis in a more formal way is 5 or 6 years old. At this age, children have already developed their psychomotor skills, coordination and attention and are much better adapted to the demands of the game.
You may think that because you didn't play tennis as a child or even as a teenager, it's too late to start now. The truth is that you can start playing tennis at any age, and it's great for your physical and mental health. Tennis is a sport you can play for a lifetime.
Whatever your age is,  you can start playing tennis now and it's great for your health. You may be wondering where to start, what you'll need and how to get started. Maybe you've always liked the idea of playing tennis, but you haven't taken the plunge because you think you're too 'big'. However, one of the good news is that you can start whenever you like, taking into account your abilities.
Tennis has always been a sport accessible to all ages. The sport is known as the sport for life. Studies show that tennis is a great activity for staying fitter, living longer, being more social; and not to mention the fact that it's FUN for all ages.
It's great fun to play tennis, hit the ball, run from side to side of the court and even form friendships with opponents or people in your own group. If you are determined to start practicing, pay attention to these recommendations:
1) Proper Equipment.
You don't need much to start playing tennis. You just need a racquet and gym clothes, including proper shoes. Any set of gym clothes will work for tennis, so you don't need to spend a lot of money. However, tennis does require a fair amount of footwork, so you'll want to make sure you have a decent pair of tennis shoes. Avoid running shoes, as they don't provide the ankle support you'll need for quick lateral movement.
2) A Good Tennis Instructor
Whether you start playing as a kid or in your 20's, 30's, 40's or beyond, it's always best to start with proper tennis instruction. You'll want to develop good habits from day one because bad habits can be hard to change. You also don't want to have to spend time going backwards to acquire the right techniques.
3) Use a Ball Machine
Once you know the basics of the forehand and backhand stroke, you'll want to practice, practice, practice. A great way to improve your stroke is to rent a ball machine and simply practice returning balls. Listen to your instructor and use the ball machine to master what you learn.
4) Play Regularly
This is key to getting better at any sport or anything you want to do. Play regularly. Go to your tennis lessons and then play with a partner and practice every week. Your muscles need it for conditioning and muscle memory. Practice the skills you learn and you will improve week by week. A club is a great place to do this. While you're at it, don't forget to have fun!
5) The first steps on the court
After finding a place, it is best to familiarize yourself with the dimensions of the court. A tennis court seems to be relatively manageable until you stand on it yourself. If you are on a clay court, you should first read our instructions for court maintenance.
Now you can start your first training session. Ideally, you should warm up well before the start of each training session. In general, the second mistake most beginners make is to start playing without a warm-up program. In this way they accept an unnecessarily high risk of injury.
6) Find a training partner
If you've gained a little more experience in movement sequences, it's time for a training partner. Look for like-minded people who are also interested in improving their tennis game. It's important that you are on the same level of play.
There is no point in playing against a tournament player who shows you his strength. That would frustrate you too much and take the fun out of the game. On the other hand, your partner should not be too weak, otherwise you will not develop further.
Basically, with a play partner, completely new training possibilities arise for you. From now on, you can practice the remaining strokes, such as volleys or butterflies. You will also make your training more effective because you can pass the balls to each other. The bottom line is that you both benefit.
The ideal is to vary the different exercises. To train the forehand or backhand, you can for example organize a « cross duel ». More precisely, you stand diagonally opposite each other on the baseline and pass the balls to each other with the same stroke.
We recommend that you also play entire rallies for points, to awaken the idea of competition. You simply play better tennis if you want to win.
7) Consistency
In general, consistency is a decisive factor in tennis. Because without regular training, you will quickly unlearn the moves again. For success in tennis it is crucial that you get a certain rhythm in your game. In addition to training with a playing partner, you can also take coaching lessons.
A good tennis coach is characterized by the fact that he helps you perfect your technique. With his experience, he will analyze your stroke movements and give you the right feedback. This way, you learn from a professional what exactly you are doing wrong and how to correct these mistakes.
However, you should keep in mind that this service is not free. Of all tennis costs, coaching lessons are by far the most important. How much exactly does a coaching lesson cost? That depends mainly on the qualification of the coach. On average, a single lesson costs 30 euros.
For group training, the sum is of course divided among the players. As a rule, training in summer is cheaper, because in winter there are still expenses for the hall and electricity.
Tip: Usually tennis coaches offer trial lessons or trial courses. This gives you an idea of tennis training so that you can better decide which coach is right for you.
8) Set a goal
What do I want to accomplish in tennis? Where will I be or play in one, three or five years? These are questions you should definitely ask yourself. Sit down quietly one night and write down your tennis goals.
Don't worry, you don't have to become the next Rafael Nadal. There are also things that count, like having fun playing or playing on a certain team.
The main thing is that you have goals and that you think about them regularly. That gives you an extra boost of motivation in case things don't go so well on the court.
Play Tennis at Any Age
There really is no age limit to playing tennis. You can start as a child or you can start later in life, and you'll enjoy it just as much. Plus, the health benefits of playing tennis are unmatched. Use these tips to play tennis later in life or get started today. We know you'll love it!